Advertising Balloons, advertising blimps and advertising inflatables for sale in Minnesota.
Call 1-800-791-1445 for more information.
Email: Sales@MInnesotaBalloons.com
USA manufacturer of traffic building and sales increasing advertising balloons and blimps! Your source for advertising balloons in Minnesota.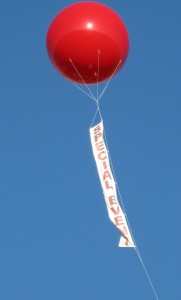 Inexpensive, easy to use and they WORK!
Advertising Blimps for Minnesota promotions.
Helium promotional blimps are great for attracting attention to your business, event or sale. We manufacture helium blimps in the USA. We use only the highest quality polyurethane material, not PVC. Lighter, stronger, better helium retention and better color retention makes polyurethane the ideal material for these marketing blimps. Reusable blimps from $461.00.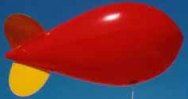 Advertising Inflatables for sale in Minnesota.
If you need to drive traffic to your business or event advertising inflatables may be the right choice for you. We provide advertising inflatables in Minnesota and we have a huge selection. Giant inflatables from 10 ft to over 60ft tall attract attention and potential clients remember them and you!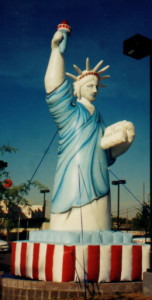 We have all types, sizes and shapes of these giant inflatables. Giant custom balloons are our specialty. Hundreds of inflatables in stock for rental and sale.
We have all shapes and sizes of advertising inflatables available for rental in Minnesota. We have 10ft. Santa inflatables to 25ft Zilla Monster inflatables and everything in between.
We have a UNIQUE POLICY for rentals inside the USA. If you can give us 4-5 weeks notice of the inflatable you want we can provide that for a one month or less rental for $1200.00 which includes shipping both ways. Many of these will be new inflatables that are light weight and easy to install. We have a unique color coded tie down system which makes installation a breeze.
Need something unique but don't want to spend $7000 on it? Try our one month rental for $1200 for most 20ft – 25ft inflatables. We must agree to the design and like I said we need 4 – 5 weeks to make it but you can have a new inflatable for your event or promotion. If your name needs to be on the inflatable it will be placed on there with a banner so we may be able to put that piece out for rental to someone else in the future.
Call 1-800-791-1445 for advertising balloons, blimps and inflatables in Minnesota.
Email:Sales@MinnesotaBalloons.com for more information.